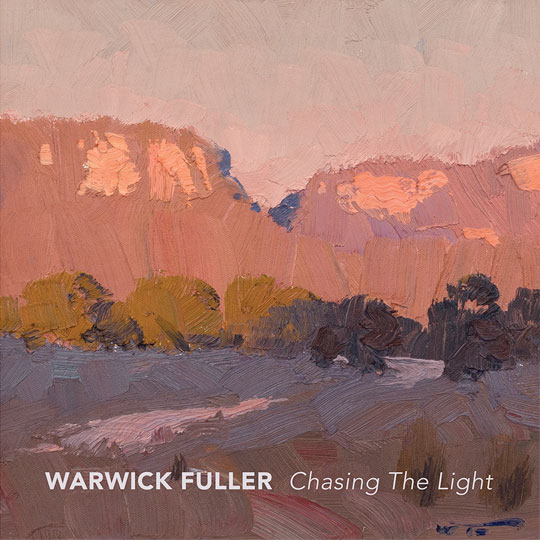 Use our secure Paypal shopping cart (you don't need a Paypal account)
This 184 page book is a career spanning catalogue of 86 beautifully reproduced paintings representing over 40 years. It chronicles Warwick's first solo exhibition at a public gallery.
More than just a chronological catalogue, it is sprinkled with anecdotes, quotes, background and musings on Warwick's paintings and life as a painter.
235mm x 235mm $60 + Postage
Available from the 28th June 2020 at:
Penrith Regional Gallery, Home of the Lewers Bequest.
86 River Road, Emu Plains, New South Wales, Australia 2750
Phone: 02 4735 1100
www.penrithregionalgallery.com.au
Lost Bear Gallery, Katoomba
98 Lurline St, Katoomba NSW 2780
www.lostbeargallery.com.au
Phone: 02 4782 1220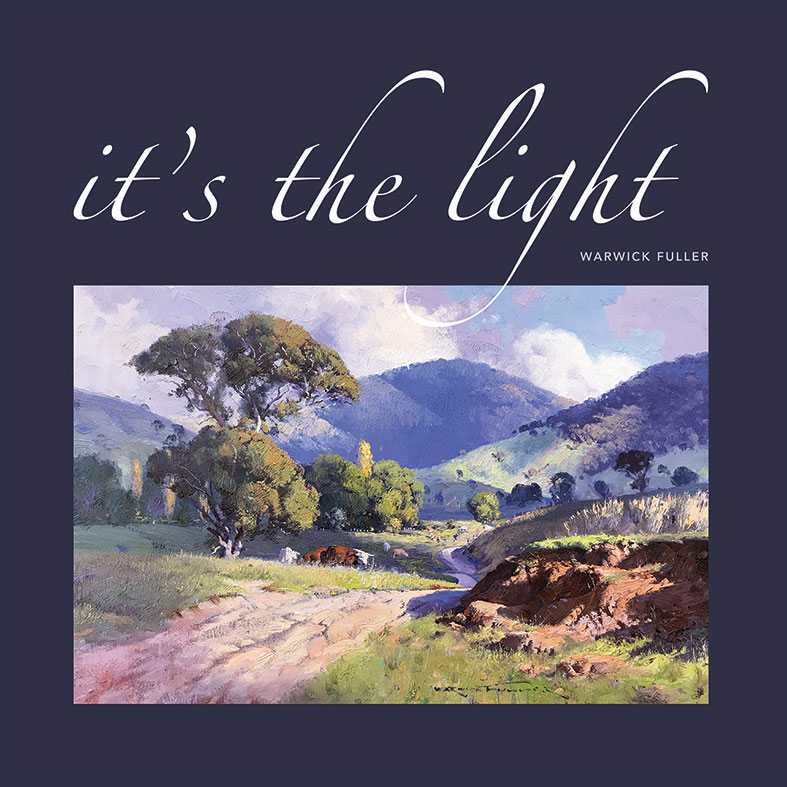 Hardcover     ::     60 + new paintings     ::     80 pages     ::    270mm x 270mm
$39 + postage (posted in a hard cardboard box)
Bursting with painterly, bold, delicate, gestural, gentle, strong oil paintings, 'It's The Light' is a superb new hard cover by Warwick Fuller. Landscapes imbued with emotion, joy and light.
Use our secure Paypal shopping cart (you don't need a Paypal account)
Impressions & Interpretations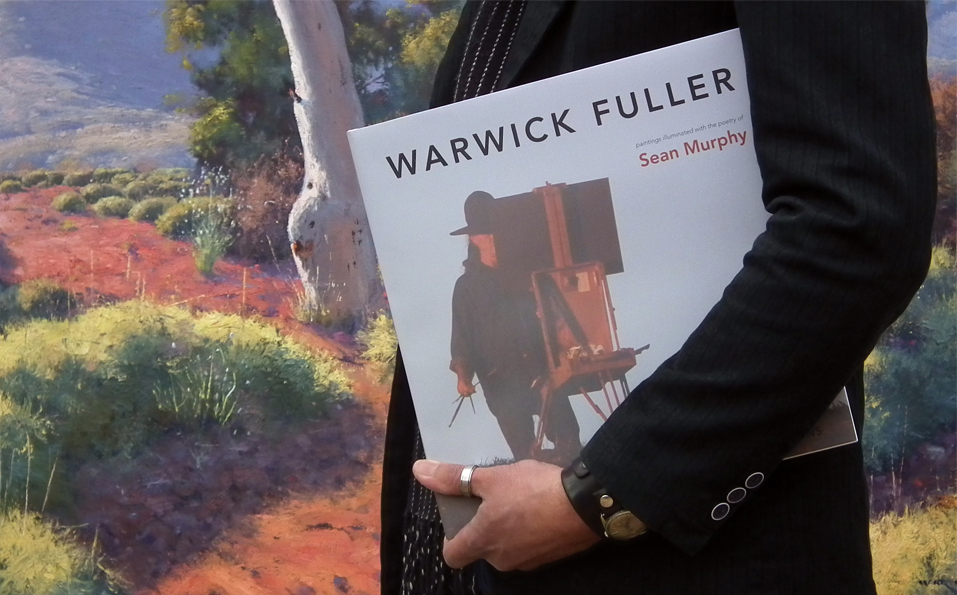 Hardcover            ::            132 pages            ::           31cm x 31cm            ::           $85 + postage (posted in a hard cardboard box)
Warwick Fuller's first book, Impressions & Interpretations, features an extensive collection of some of his favourite paintings,
beautifully reproduced and each one illuminated with inspired poetry by ABC journalist, Sean Murphy.
Use our secure Paypal shopping cart (you don't need a Paypal account)
 Book Review by arts writer, Caterina Leone
Warwick Fuller has painted the Australian landscape for over thirty-five years, during which time he has built a solid reputation for himself, with more than sixty solo exhibitions and numerous awards and accolades. In 2012, Fuller served as the Official Tour Artist for His Royal Highness the Prince of Wales and Her Royal Highness the Duchess of Cornwall, during their tour of Australia. Four of his resulting paintings were acquired by the Prince and now reside in his private collection. At such a highpoint in his career, Fuller desired something "less ephemeral than the computer screen" to present his body of work. Decidedly not ready for a retrospective, the idea for a book was born: to interpret each painting in poetry. A reversal of the usual poetry-to-visual art genre, all that was missing was the poet. A chance mention of his idea to acclaimed ABC journalist Sean Murphy led to the shy disclosure of some of Murphy's own, as yet unpublished, poetry. Impressions & Interpretations was underway.
Painting and poetry are both accessed primarily through the visual. Painting, as there is no alternative, and poetry, by choice or necessity, usually being read as words on a page rather than spoken aloud. Yet each has their own domain; things that cannot be expressed in one form, can in the other.
Poetry is closer to our immediate experience as it is crafted from the language we each use every day. Painting is slightly more abstruse. Fuller's aim was for the poetry to clarify his emotional response to the landscape. That aim has been fulfilled, and to an extent that very likely surpasses expectation. There is a beautiful parallel in the translation from landscape to painting and painting to poem. Neither translation is direct: just as Fuller interprets the scene in front of him, Murphy avoids a simple description of the painting. The poems are imbued with Murphy's own personality. They offer a further perspective, an added guidance with which to navigate that void between artwork and viewer.
Warwick Fuller's paintings are reproduced in the book in startling clarity. Despite deviating very little from his now-recognisable style, his works retain a sincerity and authenticity that is refreshing and laudable. Fuller doesn't force himself on to the landscape before him, distorting it with the moods of his own inner landscape, and thus forcing himself on the viewer as well. Neither does he simply replicate. He captures the pure joy he feels when seeing- really seeing– the scene before him, and does so in a way that is transferrable to the viewer. His paintings not only celebrate nature but moreover, humankind's ability to celebrate nature.
He paints more than the visible landscape, something that often escapes the eye, the cosmic landscape that we are all a part of- a glimpse of the sacred. Murphy captures this in Sunrise over the Tasman, in which he finished, in reference to a seascape, with the line: "Echo of the universe". That is what resonates in Fuller's paintings, and Murphy helps us to hear it.
The subtitle for the book is 'Paintings illuminated with the poetry of Sean Murphy'. It is hard to imagine that anything other than the paintings themselves would be needed to fully appreciate them. And nothing is. A painting cannot be transcribed into words. Such an attempt would be futile and do wrong to the respective beauty of both the visual and the written language. But Murphy's poetry adds a second, unique dimension. In some, he has restored to the accompanying painting what is no longer visible: the experience of painting. He illuminates the burdens and blessings, the unending questing and emotional cycles that are part of that particular creative act. More often though, Murphy focuses on the subject matter of the painting, weaving from the paint a story, sometimes personal, sometimes metaphoric, sometimes expanding upon the physical location and its myths and history. Both poem and painting can exist independently, yet together each heightens the other, forming an intricate and resonant symphony, the rhythm of the words deepening the melody of the brushstrokes.
Impressions & Interpretations is a work of art in itself, a celebration of human creativity in words and paint. It is the perfect introduction to Fuller's work, and for those already enamored of his work, it is a new and unique insight into his passion and motivations.
After such a unique creative undertaking, one can only anticipate with excitement what will come next for both Fuller and Murphy. A solo exhibition of Fuller's paintings in London in May of this year will be followed in October with another at Lost Bear Gallery, Katoomba, so at least we needn't wait too long to find out.